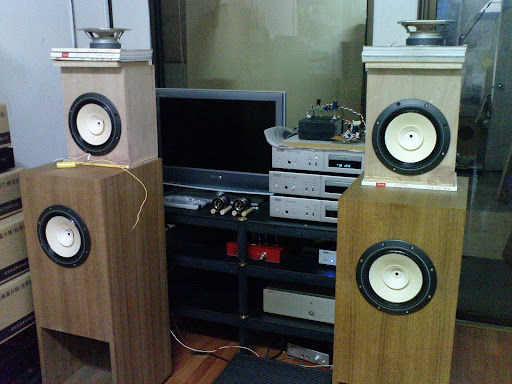 I have gone thru the quest on paper to look for a small enough speaker cabinet to be used as a bass or sub-woofer unit some time ago. This has shown that besides the driver characteristic, the only way to get it to go lower is to increase the box size. There is a limit of course.
When I first saw the above box with the Fostex FE207ER-S at
Robert's place
, I was not expecting it to sound any way decent at all. Thereafter, I just continued to look at other stuff, such as the DAC that he has been experimenting with... he was telling me about the different low noise power supplies that he tried in various positions, which sounded nice at which part, etc... Then he started playing music thru those small boxes above the horn loaded speaker.
To my surprise, the mid bass is there! Based on memory, I did not think that it went lower that those horn loaded Fostex, but the horn loaded boxes are a multitude larger. Even though I had a flu which caused my hearing not to be what it normally is, but no doubt, it is still acceptable frequencies available from that small box (think small bookshelves, but with more bass). I cannot help but wonder why I'd want to have a low WAF speaker... should just get a small box with a sub instead.
I also wondered if the same box will work for my Coral Beta 8 driver... Please do not tell my wife about this pair of gem that I have squirreled away... But I am sure it will get the stamp of approval from her in such a small cabiinet. Maybe I should suggest to Robert to make it deeper so that it can accomodate the larger magnet of the Beta 8. ;)
Some pics
here
.