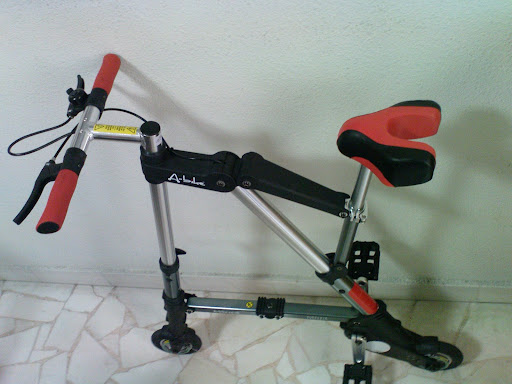 I'm not sure what led me to look for an
A-bike
... but the main intention was to have a bicycle that i can store away when not in use, and to be able to accompany Lucas when he is cycling.
Then I saw the
Strida
that was being sold in a store at Adelphi duing one of the walk arounds to check out hifi equipment in that building. The Strida was selling for around SGD800 if I am not mistaken. Quite a hefty price for a foldable bike. And it does not fold down to a small size. There is a
youtube video
that compared the 2 bikes.
The A-bike was designed by
Daka Development
, a SGX listed company, based in Hong Kong. The ironic thing is that the bike is not sold in Singapore... Shipping to Singapore would be 1/3 the bike price. Since my wife is in London, I asked if she could lug one back for me. Actually, prior to her trip, I told her it is not necessary to get one.
Anyways, she was nice enough to lug one from London to Berlin to Brussels to Singapore for me. I started riding it since yesterday. The short handle bar makes it difficult to maneuver the bike at slow speeds. Need some getting used to... The wheels also felt a little bouncy despite it being inflated till 90psi as recommended. And it did draw some attention when you are out cycling. Mostly because of its diminutive size. When my wife rode it in London, the people there thought she got it elsewhere as they had never seen this bike in London before.
All in all, a nice fun bike in a small package that will keep me from any DIY stuff this week. ;)
More pics
here
.